One of the most difficult things for me participating in Dinner Divas was to decide what I will make for the first round. Our brief was to make at least 3 dishes, and each must contain one of the sponsor's products. The sponsors are Rhodes food group, Nu-laid eggs and Sasko products. We were told to preferably not mix the ingredients in our recipes! Most baked goodies require flour (Sasko) and eggs (Nu-laid), so I it was very difficult to make something containing one of each. I played around with loads of recipes – some successful but some totally uneatable!
In the end I decided to make these chocolate crunchies, which was an adaption of a very old recipe of my Mother!! It is a very easy recipe and you can make it very quickly. For Dinner Divas I used heart shape cookie cutters to cut it, but it can be cut into rectangular shapes. It can be made without the chocolate topping for a more affordable version.
It is a great Lunchbox treat!
I used Sasko Flour in this recipe to obtain the best results!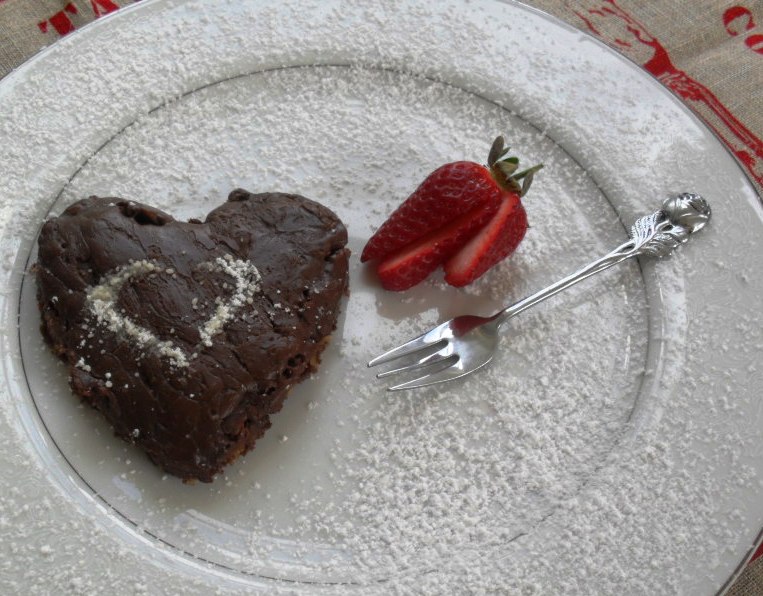 Chocolate Crunchies for Dinner Divas
Prep Time:
Cook Time:
Total Time:
Recipe for chocolate crunchies
Ingredients
140g (250ml) Sasko cake flour
30ml cocoa powder
5ml baking powder
1ml salt
150ml (125g) sugar
80g (250ml) desiccated coconut
80g (250ml) rolled oats
200ml melted butter
5ml vanilla essence
200g milk chocolate
100ml cream
Strawberries or any other berries of your choice
Icing sugar to dust over
Instructions
Pre-heat the oven to 160ºC.
Butter an ovenproof dish of approximately 28 x 18 cm.
Sift the cake flour, cocoa powder, baking powder and salt together.
Add the sugar, coconut and oats and mix well.
Stir the melted butter with the vanilla essence into the dry ingredients and mix well.
Press into the prepared baking dish and flatten.
Prick all over with a fork and bake in the pre-heated oven for approximately 12 minutes.
In the mean time melt the chocolate in the microwave oven, making sure that it does not overheat.
When just melted add the cream and return to the microwave for 30 seconds and beat well.
Take the baked crunchies out of the oven and pour the chocolate topping immediate over the top and spread with a knife.
Cut into squares or cut into forms with a cookie cutter while still warm.
Leave to cool.
Serve with some sifted icing sugar and fresh berries.