Recently I read on someone's blog about lamb sosaties (I can unfortunately not remember on whose blog?). It reminded me of these lamb sosaties. Some years back, when we were still living in Pretoria, I was asked by our church to make 12 dozen lamb sosaties.
For weeks before the event I made sosaties, testing different marinades and flavour combinations. Friends and family was forced to eat sosaties for about 4 weeks in a row and this recipe was the one that everyone enjoyed the most. I made it a few times after this event and then got tired of it.
After reading about this lamb and dried apricot sosaties, I was so craving this that I just had to make it again. If you are looking for something really delicious to braai over the weekend, try this!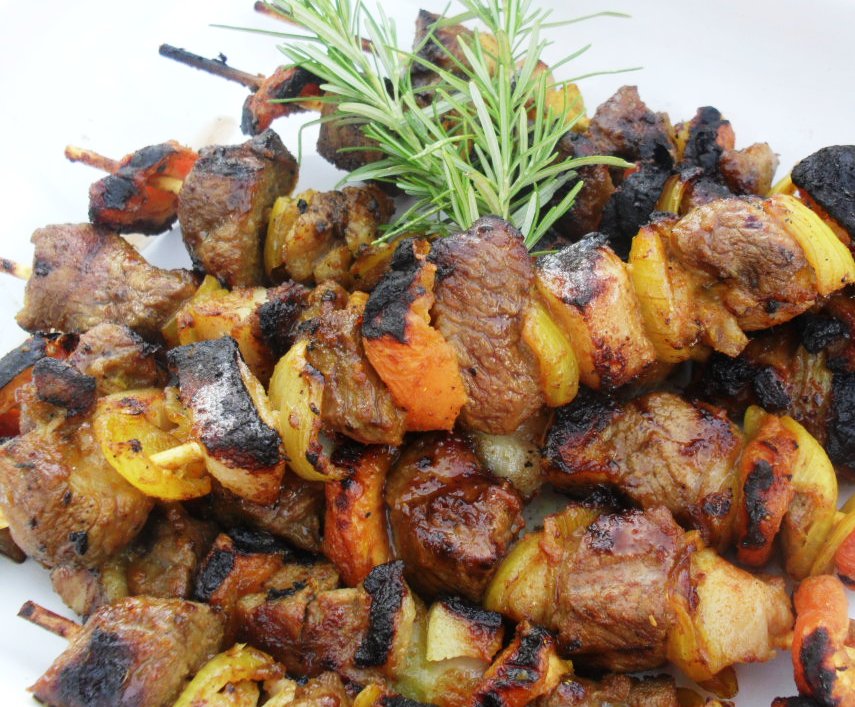 Prep Time:
Cook Time:
Total Time:
Curry lamb sosatie recipe
Ingredients
1.2kg leg of lamb cubed
200g pork fat, cubed
3 onions
3 cloves of garlic, minced
75m smooth apricot jam
30ml brown sugar
30ml curry powder
15ml cumin powder
2 bay leaves
30ml dry white wine
15ml corn flour
Salt and black pepper to taste
250g dried apricots
Instructions
Cut the onions into large pieces.
Mix the garlic, apricot jam, brown sugar, curry powder, bay leaves, white wine and corn flour together in a saucepan.
Add the onion pieces and season with salt and pepper.
Simmer on low heat until the sauce thickens slightly.
Place the lamb and pork fat cubes in a marinade dish and pour the sauce over. Marinade for 24 hours in the fridge and turn over every now and then.
Place the apricots in water until they are soft.
Thread the lamb, alternating with the pork fat cubes, onions and the apricots onto kebab sticks.
Braai on medium coales until cooked.
Serve with some mealiepap and sheba.
If you liked this recipe, then I am convinced you will also enjoy this Lamb skewer recipe!