I always thought about "old-fashioned" as things that happened when my mother was young. When I rediscovered this mushroom recipe again and made it for my family I was quite shocked to hear my children asking me if I could make those old-fashioned stuffed mushrooms again!
I use to make these often in the eighties as a starter. It is also great as a side dish and will make a wonderful light vegetarian lunch.
I rediscovered the beauty of serving this as a starter at a braai, because no plate is required. You only need one free hand and the other hand can be used for your favourite drink. A beer goes well with these delicious morsels!
The mushrooms ready to go into the oven: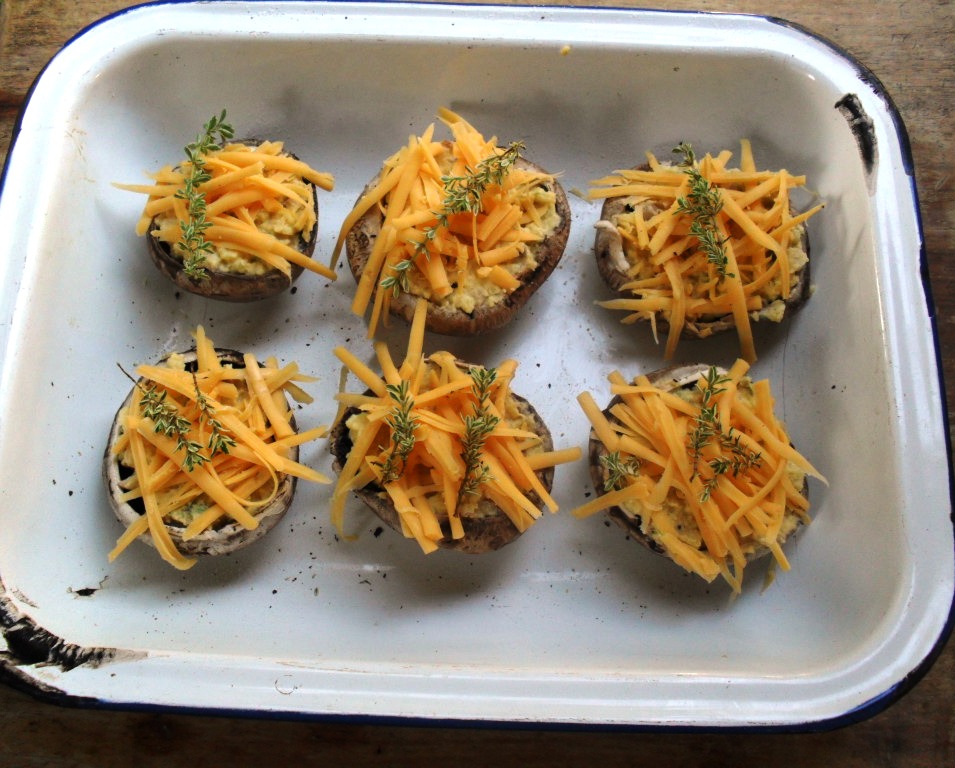 Old-fashioned stuffed mushrooms
Prep Time:
Cook Time:
Total Time:
Brown mushrooms stuffed with a breadcrumb mixture and topped with cheese
Ingredients
8 large brown mushrooms, cleaned
45ml butter, melted
1 clove of garlic, minced
60g bread crumbs
45ml cream
1 egg yolk
20ml fresh thyme leaves
90g grated cheddar cheese
Instructions
Pre-heat the oven to 180⁰C.
Butter an oven proof dish.
Remove the stems from the mushrooms and cut finely.
Mix the mushroom stems with the melted butter, garlic, bread crumbs, cream, egg yolk and thyme leaves.
Fill the mushrooms with the mushroom stem mixture and sprinkle the cheddar cheese over.
Place into the prepared oven dish and bake in the pre-heated oven for 15 minutes.
Serve hot!
Notes: You can also add 125g crispy fried bacon or 100g powered biltong to the bread crumb mixture.  Leave out the garlic and/or thyme if you wish.