January is known as a long month, financially. For most of us payday was quite a long while ago and the festive season spending always gets a little out of hand.
You can stretch your budget on the food side with these tips:
1. Eat meats like pork, chicken and fish that are more affordable.
2. Look out for specials on gammon, duck and other traditional Festive food; I have seen that my local supermarket is selling gammon at half price at the moment.
3. Stretch meat by adding it to rice or pasta or making a salad. This lamb salad is always a winner and you can feed a lot of people with a small piece of lamb!
4. Double up on Meatless Mondays.
5. Add vegetables such as grated carrots, potatoes or courgettes to increase the nutritional value of meat dishes such as mince. I always add some grated carrots when I make Spaghetti Bolognaise.
6. Use vegetables and fruit that are in season.
7. Buying meat in bulk is less expensive. To get more value tell your butcher how to cut your meat. Go here to see which cuts are best for lamb.
8. Use less expensive meat cuts, such as ostrich neck, chicken livers and stewing beef.
9. Make more egg-based dishes such as frittatas and quiches.
If you have to entertain during this long month, why not make a roasted pork shoulder. Pork shoulder is full of flavour and more affordable than the leg of pork or the very popular pork belly. I recently served it with roasted potatoes and baby carrots. Any leftover pork is delicious on sandwiches with mustard and gherkins!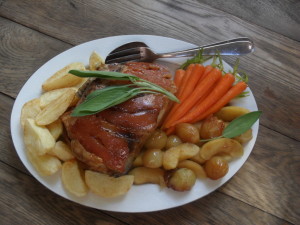 Roasted pork shoulder with apple and onion confit
Prep Time:
Cook Time:
Total Time:
A recipe for roasted pork shoulder; great for entertaining AND affordable!
Ingredients
1 kg pork shoulder
Maldon salt and black pepper
3 golden delicious apples, peeled, cored and quartered
8 baby onions, peeled
300ml apple juice
15ml apple vinegar
30ml brown sugar
2 crushed sage leaves
Instructions
Pre-heat the oven to 160⁰c.
Sprinkle black pepper and Maldon salt all over the pork shoulder.
Place the pork on a rack into a roasting dish.
Roast for 90 minutes.
In the mean time, place the apples slices, baby onions, apple juice, vinegar, brown sugar and sage leaves into a saucepan and place on high heat. Bring to the boil.
Stir the mixture, reduce the heat and simmer on low heat for an hour until the liquid has reduced.
Remove the pork shoulder from the oven, cover with foil and rest for 10 minutes.
Serve with the apple and onion confit on the side.