Herbs can take any meal from drab to fab! Just think lamb with mint, curry with coriander leaves, tomatoes with basil and fish with dill! How drab would these dishes have been without the herbs? This dish of spaghetti with an herby tomato and chicken sauce relies totally on the herbs to make it a fabulous dish.
Everybody deserves to have an herb garden; well if you don't have a garden you must have a couple of potted herbs on your window sill.
The herbs that I use most often are parsley, basil, thyme, oregano, mint, coriander and rosemary.
Parsley is an old favourite, traditionally used for garnishing plates. Parsley seeds take a long time to germinate so the best option is to buy parsley seedlings. The plant needs a lot of sunlight. It is a biennial plant and the more the leaves of the plant are cut, the more leaves it will produce. Parsley is used in a variety of dishes; in soups and stews, with red meat and chicken, with potatoes and rice and in salads! It is a versatile herb and definitely one of the first herbs to be planted in your herb garden.
Basil is a perennial herb and grows very easily from seed. It is a summer plant and needs a lot of sun. It is most often used in Italian cooking. Pastas, pizzas and salads just taste better with the addition of basil. I can't even imagine what my life will be without basil pesto; the ingredient that I used most often to dolly-up sandwiches and pastas! Basil grows very well in containers and can be grown indoors during winter, but need at least 6 hours of sunshine per day.
Although thyme can be grown from seeds, I find it better to buy seedlings. Thyme is a perennial plant and also needs a lot of sunshine. The more you pick the leaves from thyme, the better it will grow. Thyme can be used in a variety of dishes including red meat, chicken, vegetables, fish, eggs and venison. It can also be added to sweet dishes such as custards and fruit. It is a versatile herb and you will harvest a lot of leaves from one plant.
Oregano is a creeping perennial and also needs a lot of sunlight. The best way to start growing oregano is to buy a plant or two. It is an evergreen plant that will produce leaves throughout the year. It is also often required in Italian cooking. It goes well with tomatoes, cheese, lamb and beef dishes.
Mint grows easily, but needs to be watered often and daily in dry conditions. Mint can easily invade your garden so it is actually better to grow mint in containers. It goes well with sweet dishes, fruit, lamb and drinks. I often include mint leaves in salsas and salads; it gives it such a fresh taste! Mint can be easily be grown from root or stem cuttings.
Coriander grows easily from seed and is an annual plant. I was not always fond of the taste of fresh coriander leaves and I think it is definitely an acquired taste. It is an important ingredient in Indian, Thai and Mexican cooking. It goes very well with spicy dishes!
Rosemary is a perennial herb and looks attractive in any garden or container. It needs a lot of sunshine but will survive with little watering. The best way to start growing rosemary is from plants purchased from your nursery. Rosemary goes very well with lamb dishes. It is also used to flavour tomato, potato, and pork and chicken dishes.
There are many more herbs that will add benefit to your culinary experiments such as sage, marjoram, dill, fennel, rocket, bay and many more. It is a matter of personal taste. I find the herbs that I have explained above as the most valuable and the ones I require mostly for my day to day cooking.
If you enjoy cooking, I urge you to start growing your own herbs. It will benefit your cooking and provide you with much joy!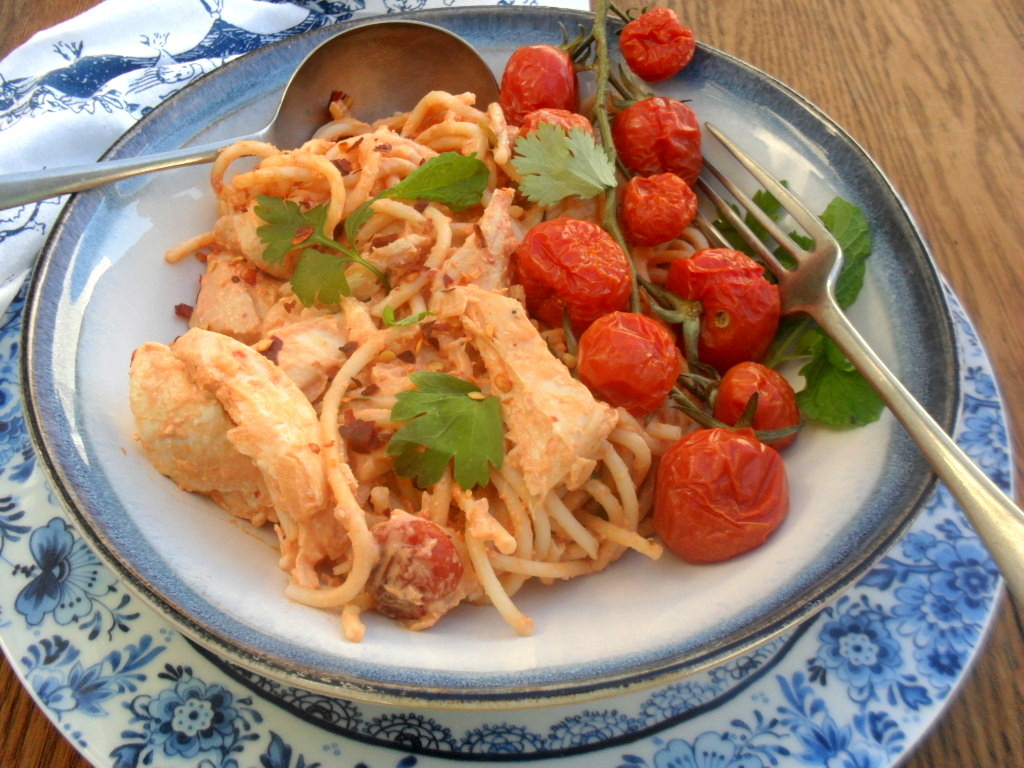 Spaghetti with herby tomato and chicken sauce
Prep Time:
Cook Time:
Total Time:
A recipe for a herby tomato and chicken sauce served with spaghetti
Ingredients
600g chicken fillets
Salt and pepper
2 bay leaves
250g baby tomatoes
15ml olive oil
1 onion chopped
3 garlic cloves, peeled and chopped
10ml dried chilli flakes
1 x 410g whole peeled tomatoes
125ml dry white wine
5ml chopped parsley leaves
5ml chopped coriander leaves
5ml sugar
250ml cream
350g spaghetti, cooked according to packet instructions
5g fresh parsley leaves
5g fresh coriander leaves
10g fresh mint leaves
Instructions
Pre-heat the oven to 180⁰C.
Place the chicken fillets into an ovenproof dish in one layer and season with salt and freshly grounded black pepper.
Add the bay leaves and cover the chicken with hot water, place in the oven and cook for 25 minutes.
Place the baby tomatoes into an ovenproof dish and bake alongside the chicken fillets, if you have space. (Alternatively the tomatoes must be baked for 25 minutes in an 180⁰C oven, after the chicken is done)
In the meantime heat the olive oil in a saucepan and sauté the onions until soft and golden. Add the garlic and chilli flakes and cook for 2 to 3 minutes.
Add the tinned tomatoes, wine, parsley, coriander and sugar, Season with salt and pepper and simmer for 20 minutes. Remove from the oven and cool down slightly. Process in a food processor or with a stick blender. Return to the saucepan; add the cream and heat through.
Once the chicken is cooked, remove from the cooking liquid and tear into bite sized pieces.
Place the spaghetti and chicken into a serving bowl. Pour the hot chilli tomato sauce over. Add the cooked baby tomatoes, parsley, coriander and mint. Stir through and serve.