It has been extremely hot in Cape Town for the last couple of days. It was reported that Cape Town was the hottest city on earth on the 3rd of March, hotter than Bangkok, Dar es Salaam and Dubai! Apparently it was the hottest day recorded in Cape Town for the last century.
I often feel that fizzy drinks does not quench one's thirst in extremely hot weather, so I was playing around and making new drinks that could satisfy our thirst in the extremely hot weather. Iced teas are very efficient in quenching your thirst and so is lemonade. Unfortunately I found that milk based drinks such as this blackberry milkshake does not supply efficient relief to thirst. Alcoholic beverages helps initially but makes you feel even more thirsty after some time, so although drinks such as this mixed berry punch is delicious you will soon search for something else again to combat your thirst.
This strawberry and basil lemonade is delicious and looks so festive! I have made it a couple of times and it's never failed me! If you love your bubbly serve this strawberry lemonade with some sparkling wine; fill a glass half way with the lemonade and top up with some JC.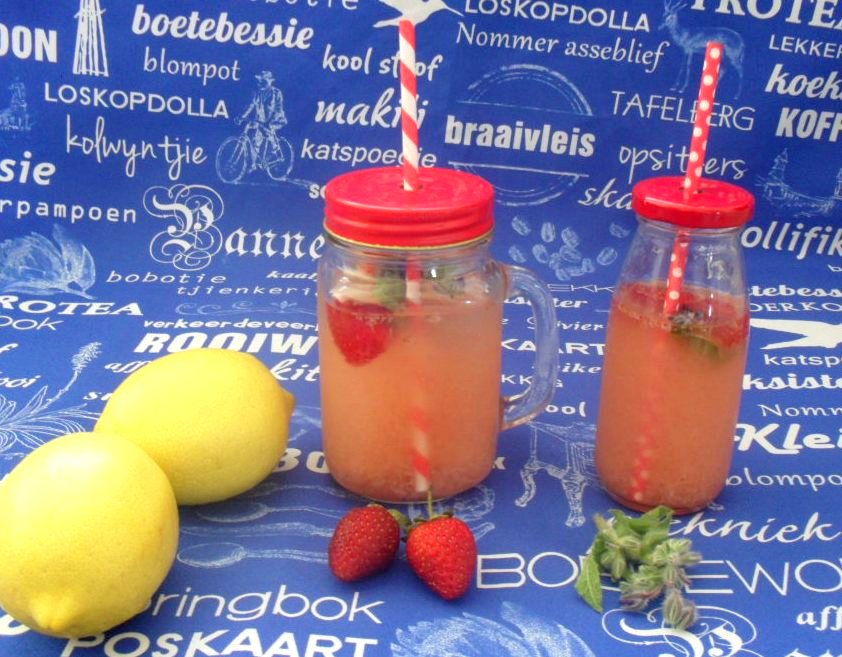 Strawberry and basil Lemonade
Prep Time:
Cook Time:
Total Time:
A recipe for a strawberry and basil lemonade
Ingredients
250g strawberries (plus additional for garnishing
60ml sugar
250ml sugar
5 fresh basil leaves (plus extra for garnishing)
250ml fresh lemon juice
1000ml water
ice
Instructions
Pre-heat the oven to 180⁰C.
Wash and hull the strawberries.
Place the strawberries in a single layer onto a baking try and drizzle with the 60ml sugar.
Place in the oven and roast for 10 minutes.
Remove the strawberries from the oven and cool down completely. Process the strawberries with the pan juices in a food processor.
Place the 250ml sugar and 250ml water in a saucepan. Cook over medium heat, stirring frequently, until the sugar has dissolved. Add the processed strawberries and the basil leaves.
Add the lemon juice and the remaining water. Stir to combine.
Transfer the mixture to a pitcher and cool in the fridge for 3 to 4 hours.
Serve with ice and additional strawberries and basil.